Article content
FedDev Ontario Minister Filomena Tassi on Monday announced three area manufacturers in different sectors will split $10.375 million in interest-free loans to create over 100 new jobs.
Article content
The pharmaceutical firm CapsCanada Corp. and the automotive supply company Uni-Fab each received $5 million, while food manufacturer Cedar Valley Selections received $375,000.
Article content
CapsCanada Corp., which is located in Lakeshore, produces high-quality, empty hard capsules for the pharmaceutical and dietary supplements markets. It is also Canada's only producer of two-piece, vegan hydroxypropyl methylcellulose (HMPC) capsules.
"Investments into the potential of growing Canadian manufacturers like CapsCanada lead to good jobs and a growing economy," Tassi said during a visit to the region.
"With the support from the Government of Canada, they will strengthen Canada's pharmaceutical supply chain, drive growth for the local economy in Windsor-Essex and create 50 good jobs for Canadians."
Article content
CapsCanada's Lakeshore plant manager Tom Breshamer said 30 of those people have already been hired as the plan is to make the new line operational later this year. Those 30 hires bring the plant's employment to 230 people, with Breshamer saying the company plans to hire another 25.
"The equipment we're getting are the two-piece hard capsule machines and automated visual inspection machines," Breshamer said. "We can have five cameras at high speed looking at various aspects of capsules detecting any defects before they go out."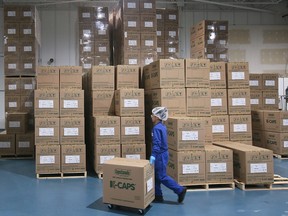 Breshamer said the plant's expansion isn't just for meeting the short-term demand.
"The purpose of this expansion is two-fold. It's to prepare for the long-term future because we know the growth is there, and this is for five to 10 years up.
Article content
"The other part of this is to also expand our offerings. With more machines we can also carry more sizes (of capsules)."
Leamington's Uni-Fab will use its grant to commercialize its automated pallet changer technology for use with CNC machines. The company manufactures aluminum, steel and stainless-steel products for the automotive, aerospace and tool-and-die sectors.
"This investment will create 50 local jobs," Tassi said.
"Uni-Fab is one of the largest metal fabrication shops in Ontario. It's at the forefront of using innovative technology to remain competitive in a changing global marketplace."
Uni-Fab president Abe Fehr said the new pallet system has been some time in development and is primed for expanded production.
Article content
"We've sold one machine already. This partnership with FedDev Ontario allows us to upgrade equipment and increase our operation," he said.
"We need larger machines. We've added one and are looking to add another.
"We're also adding fabrication equipment to improve our overall efficiency. We'll be hitting the 200 number in employees very shortly in our future."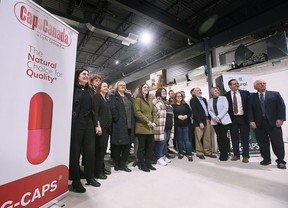 Cedar Valley Selections is a food manufacturer located in Oldcastle that specializes in natural salad dressings and pita chips.
The company, founded by Ameen Fadel and his mother Surria Fadel, plans to use the $375,000 interest-free loan to expand the company into the U.S. market and create five local jobs.
"The money from FedDev Ontario will help buy equipment and grow our facility," Ameen Fadel said.
Article content
"The food and beverage industry are really cutthroat, working on small margins. Our goal is to be the biggest pita chip manufacturer in North America.
"This money helps us expand and support our growth, improve quality, productivity and margins."
It's the second such loan in less than a year for the rapidly expanding company, which now distributes its products nationally through large grocery chains and a website presence.
Last February, Cedar Valley received $162,134 from the federal government's Regional Development Fund to expand its production line and add eight jobs.
dwaddell@postmedia.com