If you want a learner's permit or to change a vehicle registration, you have a week left to do it before the service interruption.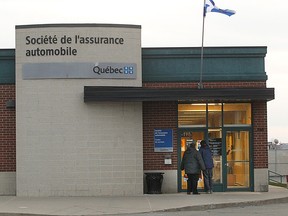 Article content
The new online platform of the Société de l'assurance automobile du Québec, SAAQclic, will be operational as of Feb. 20, the automobile insurance board's president Denis Marsolais announced on Thursday. But before that happens, many non-critical services will be unavailable as of Jan. 26.
Article content
During a news conference, SAAQ executives explained the features of the new website, including the ability to do most transactions online.
Article content
"It's a major transformation that will make it so we really put the citizen at the centre," Marsolais said. "It will allow them to do a bunch of transactions from the comfort of home."
The goal is to ensure client autonomy, increase efficiency of services and avoid unnecessary travel to the SAAQ's 142 service points in the province. Transactions like transferring a licence plate from one person to another will be doable online, and drivers will have access to all their documents in a digital format.
Karl Malenfant, vice-president of digital experience for the SAAQ, said SAAQclic guarantees "end-to-end" customer service by grouping together all client information in the same place. With this centralization, 90 per cent of the 10 billion files created over the years will be filtered and deleted, which will significantly ease the system.
Article content
"We want to be more preventive and proactive toward the client," Malenfant said. "We also want to free up space in terms of workload to put more time toward clients with specific needs."
The SAAQ said the new platform, which cost $458 million, will solve challenges related to the labour shortage, including "absorbing" the two per cent growth projected over the coming years.
Since it was created in 1978, the SAAQ has seen an 81 per cent growth in the number of drivers' licences issued and 137 per cent growth in the number of vehicles registered, but it still uses the same technology to offer its services. In 2021, it recorded about 25 million transactions provincewide.
Vice-president Jean-Philippe McKenzie reassured those with special needs, including those with difficulty reading or writing, immigrants, people who are hard of hearing or who are not familiar with technology will still have access to adapted services, in person or by telephone.
Article content
"We're very aware that certain clients will need to travel (to service centres)," McKenzie said.
The transfer of data to SAAQclic will take place from Jan. 26 to Feb. 19, during which it will be impossible to make licence or registration payments in person. Clients will instead have to use online services or tellers at financial institutions, he said.
Service centres and call centres will remain open during the transition, but the SAAQ asks clients to travel to service centres only if absolutely necessary. Licence replacement, vehicle verification services and driving road tests will still be offered.
Among those services not offered during the transition:
Vehicle registration (car dealers can issue three temporary certificates valid for up to 10 days each)
Photos for drivers' licence renewals
Online payments of drivers' licences (licences that expire after Jan. 26 will still be considered valid until Feb. 20)
Issuing of learners' permits
Issuing and renewal of restricted drivers' licences
Reissuing of licences after a suspension
Exchange of out-of-province drivers' licences
Theory driving tests
Changing banking information (no fees will be issued for rejected payments)
Driving record requests (except in emergencies)
Renewal of RAMQ medicare cards (can still be done directly with RAMQ)
Replacement of registration certificates or licence plates
Issuing of temporary registration certificates (unless requested in advance)
Issuing of exemption certificates for winter tires (unless requested in advance)
Suspension of registration for storing a vehicle
Cancellation of registration for discarding a vehicle
Applications for release from seizure (can still be done through Quebec Court if needed)
Treatment of medical files
McKenzie warned that as of Feb. 20, clients may have to wait longer than usual as employees learn the new system.
For more information about changes at the SAAQ, see their frequently asked questions at saaq.gouv.qc.ca (in French only).
This story was produced with the financial assistance of the Meta and Canadian Press News Fellowship.